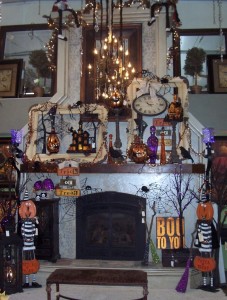 Fall at Mini Bazaar….what can I say?  The new displays for this season are simply stunning.  The warmth and color pallet of fall has got to be my favorite.   We've worked some long hard hours to accomplish this magical fall makeover, and you've got to come see for yourself.  As we've been working we've tried to put together a few design tips.
We've found one thing for sure and that is:   opposites attract.  Not only in relationships, Jay and I are proof of that, as he is so mellow……and I'm….not.   Opposites may or may not work in relationships, but it's a great approach when it comes to interior design.
The first of our tips is to pair light and dark colors.  Black and white is always a timeless classic.  Cream and navy are another personal favorite.  Try light colored art on a dark wall, or if you've got dark floors, zip it up with light rugs.  A light piece of furniture next to a darker one works wonders, too.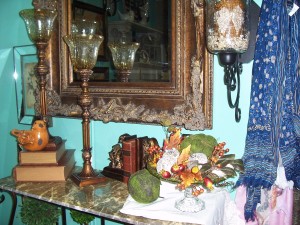 Tip #2   Everyone should choose an impact spot for fall.  If you don't do another thing, dress up your front door for the season.  Every one who goes by will enjoy your tribute to autumn.  Another easy spot would be a buffet or hutch.  An entry table or coffee table is a perfect place for pumpkins or some simple fall foliage.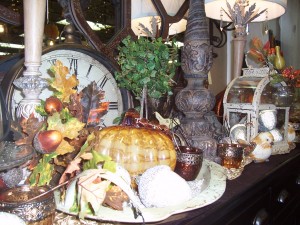 Tip #3  is to blend the elegant with the every day.  I love this concept in creating table settings or arrangements.  Throw pillows and fabrics can make a room delightful.   When you add something new to your home, look around for your favorite antiques or heirlooms to pair with your new purchase.  Your place can speak to you as well as your visitors.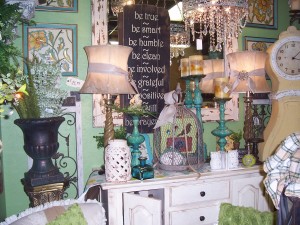 Tip #4.   Lighting… A  new pair of lamps could be exactly what your tired room needs.  We've got more fabulous lamps this season than ever before.  Our selection is fantastic.  Add some excitement or fun by using our new overhead pendants lights.  They have added a fun flair wherever we placed them.  Chandeliers are just as popular as ever and can change an ordinary place into an extraordinary
We've received all of our new and beautiful art, mirrors and so many lamps that our back room is overflowing.  Once again, my eyes are bigger than my store when it comes to buying product for a new season.  Everything was just too good to pass up!
Our Fall and Halloween décor is ready to roar.  We've been painting like crazy and you've just got to see what we have in store for you.  Truly inspiring!
See you soon.
Sept. 4 through Oct. 12
Wednesday through Saturday
10am-6pm
Note*  Our DELIGHTFUL Christmas event begins on Nov. 6th.