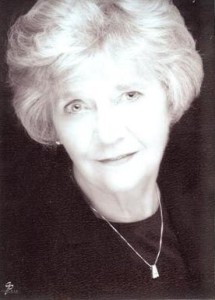 (This is my Mom.)
With everything that has been in the news as of late;  economy trouble, bombings, kidnappings , I started thinking of something to look forward to…….. Mothers Day….
I love Mother's Day. In addition to receiving some great gifts myself, I get to think of the kind and good mothers that my daughters are. But, I especially love thinking about my own sweet Mom. She is a gem. She raised 6 daughters and taught us just about everything that she knew. (I wish I would have been a better student, but I learned all that I could) Her talents include sewing, bread baking, gardening, party planning (she loves a good party), cooking, canning, community service, church service, patience, kindness, willingness, forgiveness, great sense of humor, keeping up a beautiful home, and much more. She has a hard time keeping a secret, but hey, who doesn't? We plan events all together as much as possible because she has taught us to love each other and most of all to love her. Thanks to my most special MOM. If you knew her, you would love her too. Everybody does!!
Come see us at Mini Bazaar, and find that perfect gift for your lovely Mom, or even somebody else's mom. They are all special.
I posted this a few years ago, and thought I'd do it again.   Our Mom has had lots of health problems this past year, but continues to be such a joy to everyone she comes in contact with. 🙂
Mini Bazaar hours for May, June and July.
Fridays and Saturdays….10am-5pm
We've got so many fun things for grads, Moms, Dads, and just for summer fun.  You really need to pop in and check for yourself!